Oh, two weeks have scurried by since my last post, just busy times mid summer, and we have been away (found a few glorious junk shops too, throwing in a picture or three here).
I just love this unfinished paint-by-numbers that I found in a charity shop, and I bought the book just for the cover really.
If you are ever in Auckland and you are a bibliophile, you would love this bookshop on two floors packed floor to ceiling with second hand books. We lost a couple of hours in here.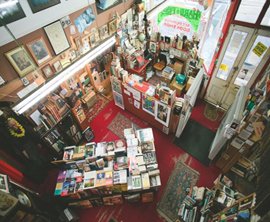 The Hard To Find Bookshop, Onehunga, Auckland
The place to go for those second hand books that you can't find anywhere else
The Pebbles
One of the things I decided to use my time on last year was writing letters (emails), to support things I care about. Interesting isn't it, what sometimes comes from the small ripple in the pond when one casts a pebble.
One such email was to Transition Towns Whangarei, suggesting we could maybe make a register of all places locally where people could feel supported in shopping in an eco-friendly, no-packaging manner. This idea gained support, and triggered another group who are working on reducing plastic bag use, which they invited me to join.
From that group I have volunteered to work with Sew Good - a community sewing place, with materials and machines provided for anyone from the community to use. The group had wound down, but will be up and running again soon.
Another email I sent was to a government department inquiring about who might be in charge of banning plastic microbeads, so I am happy to see in the news that banning microbeads in NZ is now being seriously considered. Obviously I wasn't the only one there, but every little bit helps.
Onward 2016!
Another group I joined last year was Facebook No New Clothes For A Year, so for the past few months I have been back to buying no clothing items at all, as opposed to the in-between years, when I will buy second hand. In this group you make your own rules. It is interesting, and the number of members is climbing daily.
I needed to repair a pair of shoes, as these ones are one of the few with a little height that I can stand in for 4 hours while I am playing in the band. They had started to split around the top of foot at the edge.
Typical of me, I forgot to take a before photo so I have included one of a similar pair. I put a few stitches in there to help hold it all together, then used E6000 glue to glue on a few "gems" that I had saved from something else. Now if only they last for the rest of the year.
I think there could be more mending and refashioning coming up this year. I enjoy the creative side of all that.