Friday Night Drinks
So - Friday night drinks aren't quite the same when you are not out working. ..not that my old job had such a session - everyone just wanted to get out.
Last night Derek was having drinks and snacks at work to celebrate the end of a busy week....and I was having mine at home.....
Mulled cider, home made french bread, feta, sundried tomato
I didn't make the feta cheese or the sundried tomatoes myself - but it's good to have things to work towards, and they are on my list.
The drink is my home made cider - which now bubbles like champagne. I have been making mulled cider with it on these chilly midwinter nights, by adding 1/3 teaspoon of my chai spice mix, plus a couple of cloves, some lemon juice and water to take down the sweetness a bit, and heating it in the microwave - sooo nice!
I found the french bread recipe on Pinterest and was really impressed by how it turned out. I think it was simple enough to make - but that was kind of lost as I was making low sugar marmalade and busy people's bread at the same time.
My french loaves - a hit!
French Bread Recipe -
from Heart Hands Home Blog
3 1/2 cups of warm water
2 1/4 tsp yeast
1/4 cup sugar
2 Tbsp salt
8-9 cups of unbleached flour
Dissolve yeast in 1 1/2 cups of warm water.
Place remaining 2 cups of water, sugar, salt and 3 cups of the flour into a large bowl - stir to combine. The original recipe says to use a mixer, I used the dough hooks on my hand mixer - but you could just mix it by hand no problem.
Add in the yeast mix.
Add remaining flour one cup at a time until a smooth dough is formed.
Knead 5 minutes.
Place dough in a greased bowl, turning once to coat. Cover bowl.
Let it rise in a warm spot until doubled - about 1- 11/2 hours.
Divide dough into four and shape it into long french loaves.
Place on a greased baking sheet, cover with a clean teatowel and leave it to rise for about 45 minutes.
Make diagonal slashes and brush with 1 egg mixed with 1 Tbsp water - or use milk like I did.
Bake at 200c (400F) for 20-25 minutes til hollow when tapped.
It is not as light and dry as the french bread we get here in our supermarkets, but makes great bruschetta. It has been a hit here and I will be making it regularly now.
Dumbrellas
After the heavy rain and ferocious wind we had here 10 days ago, I've decided that the umbrellas need some attention. Some were cheapies, bought in an urgent situation (but really a waste of money - only good to keep sun off), and others are of better quality - but they all fail, so I get out with my needle and thread and sew those bits of material back to their respective spokes. It makes them last a bit longer in this throw away society.
And then...But what I am going to buy myself is one of these - Blunt Umbrellas.
This is not paid advertising, but they have been tested in a wind tunnel to perform without breaking. They are New Zealand made and cost about $100 - $120, which is no doubt good economy if they last for ages.
I will be definitely putting a tag with my contact details on it, and some identifying marking. I don't want it disappearing when I leave it in a bucket at the library door.
Fool Those Birds
Lastly, I saw this picture of painted rocks and laughed so hard. Even if they don't fool the birds, it's a fun idea. Probably worth putting them in among your plants just before your own strawberries ripen.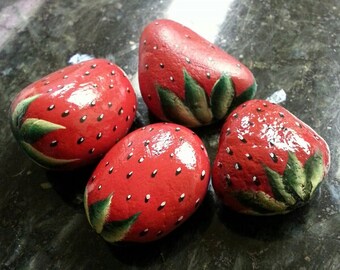 Put them among your strawberries for the birds to peck and put them off.